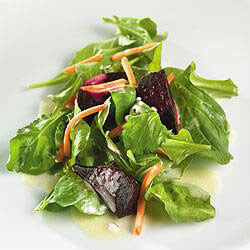 Makes: 6 servings
Serving Size: 1 cup
Preparation Time: 20 minutes
Cooking Time: 45 minutes to 1 hour
Ingredients
3 small beets, stems removed and bottoms trimmed
Dressing
2Tbsp. white wine vinegar
1/2tsp. Dijon mustard
1/2tsp. Sugar
1 garlic clove, minced
1Tbsp. chèvre goat cheese
2Tbsp. olive oil
Black pepper to taste
Salad
6cups washed baby arugula
1cup peeled, shredded carrots
Directions
Preheat the oven to 425°F. Wrap each beet in foil and place on a baking sheet. Roast the beets for
45 minutes to 1 hour until they are tender when pierced with a fork. Unwrap the beets and let
cool.
Meanwhile, prepare the dressing: In a small bowl or measuring cup, combine the vinegar,
mustard, sugar, and garlic. Whisk well. Add the cheese and whisk again. Slowly stream in the oil,
whisking constantly, until the dressing is well mixed. Season with black pepper to taste.
Under running water, peel the beets by hand. Pat dry. Cut each beet into 6 wedges.
To assemble the salad: Divide the arugula among 6 salad plates. Top with carrots. Surround with
3 wedges of beets. Drizzle with the dressing.