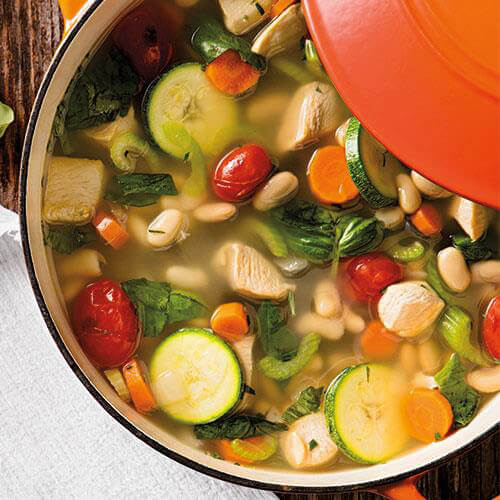 Makes: 10 servings
Serving Size: 1 cup
Preparation Time: 5 minutes
Cooking Time: 30 minutes
Ingredients
1 lb. boneless, skinless chicken breast
1 Tbsp. extra-virgin olive oil
1 cup chopped onion (about 1 large onion)
1 Tbsp. minced garlic (about 3 medium cloves)
1 cup sliced carrots (about 2 medium carrots)
1 cup sliced celery (about 2 stalks)
2 cups sliced zucchini (about 1 medium zucchini)
1 cup grape tomatoes
2 (15-oz) cans cannellini beans, drained and rinsed
1 Tbsp. chopped fresh rosemary
1⁄4 cup fresh basil leaves, torn
1⁄2 tsp. freshly ground black pepper
48oz. low-sodium, low-fat chicken stock
Directions
Cut the chicken breast into bite-sized pieces.
Place the olive oil, onion, garlic, and chicken pieces in a 6- or 8-quart soup pot over medium-high heat.
Sauté until the onions become translucent. Add the carrots, celery, zucchini, and tomatoes, and cook for 5 minutes.
Add the beans, herbs, pepper, and stock. Bring to boiling, then reduce heat to just below a boil and cook, covered, for 20 minutes.
Nurtition (Per Serving)
Calories 170
Fat 4g
Saturated Fat 0.9g
Trans Fat 0g
Carbohydrate 16g
Fiber 4g
Sugars 3g
Cholesterol 25mg
Trans Fat 0g
Carbohydrate 16g
Fiber 4g
Sugars 3g
Cholesterol 25mg
Sodium 203mg
Potassium 580mg
Protein 18g
Phosphorus 175mg