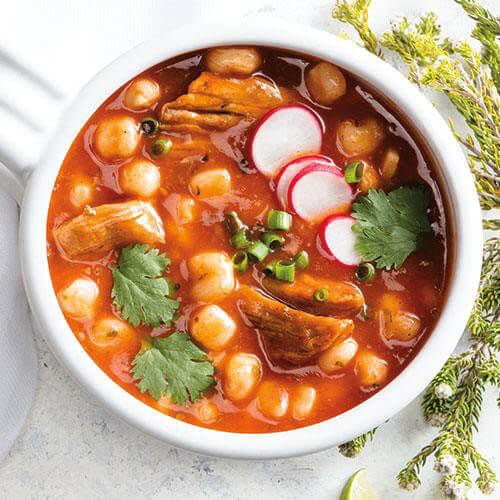 Makes: 10 servings
Serving Size: 1 cup
Preparation Time: 20 minutes
Cooking Time: 1 hour and 10 minutes
Ingredients
2 lbs. boneless pork shoulder blade (butt) roast, cubed
2 cups canned white hominy, drained and rinsed
4 cloves garlic, minced
1 Tbsp. chopped dried Mexican oregano
1 1⁄2 tsp. ground cumin
1 1⁄2 cups Red Enchilada Sauce or canned sauce
2 1⁄2 cups water
5 green onions, green parts only, chopped
5–7 radishes, sliced
1⁄2 cup minced cilantro
2 limes, each cut into 5 wedges
Directions
Place the pork chunks in a large pot. Add enough water to cover the pork. Bring to boiling over medium-high heat. Cook uncovered, stirring occasionally, until the pork is evenly browned and juices and water have evaporated, about 1 hour.
Stir in the hominy, garlic, oregano, cumin, and enchilada sauce, mixing well.
Slowly stir in the water. Simmer for 10 minutes, stirring occasionally, until completely heated through.
Ladle posole into bowls and garnish each portion with green onions, radishes, cilantro, and a wedge of lime.
Nurtition (Per Serving)
Calories 200
Fat 10 g
Saturated Fat 3 g
Trans Fat 0 g
Carbohydrate 10 g
Fiber 2 g
Sugars 2 g
Cholesterol 40 mg
Sodium 200 mg
Potassium 350 mg
Protein 17 g
Phosphorus 130 mg