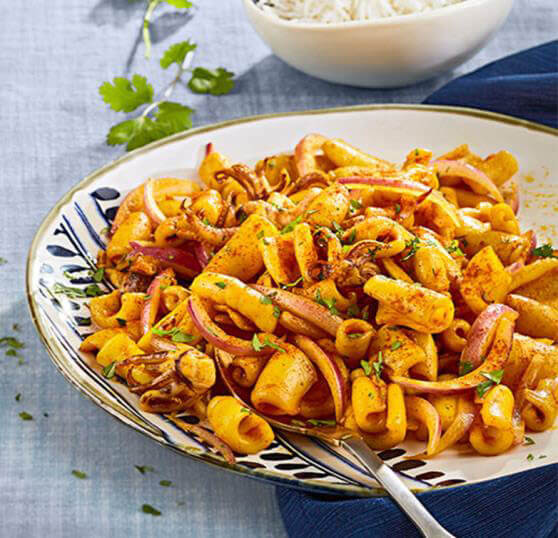 Makes: 4 servings
Serving Size: 1 cup
Preparation Time: 15 minutes
Cooking Time: 25 minutes
Ingredients
2lb. fresh calamari, cleaned and cut into 1-inch pieces
1tsp. sweet paprika
1tsp. cayenne pepper
1/2tsp. ground turmeric
1Tbsp. sunflower oil
3med. red onions, thinly sliced
1sprig curry leaf
1/4tsp. kosher salt
Directions
Heat a heavy-bottomed pan over medium heat. Add the calamari and cook until the liquid released from the calamari evaporates, about 5 minutes.
Add the paprika, cayenne pepper, and turmeric and sauté for 2 minutes, stirring well.
Add the oil, onions, and curry leaf sprig and stir well. Cover the pan and cook over medium-low heat for about 12 minutes, stirring occasionally to prevent burning.
Remove the lid, stir, and cook for 2 minutes more. Discard the curry sprig and sprinkle the calamari with the salt before serving.
Cook's Note: This dish tastes great over steamed brown rice or served with whole wheat Indian flatbread.
Nurtition (Per Serving)
Calories 200
Fat 10 g
Saturated Fat 3 g
Trans Fat 0 g
Carbohydrate 10 g
Fiber 2 g
Sugars 2 g
Cholesterol 40 mg
Sodium 200 mg
Potassium 350 mg
Protein 17 g
Phosphorus 130 mg